Home
|
Help
|
Site Map
|
Aims


主页
/
关于
/
反馈
TOP COOL SITE:
ESL-Galaxy.com FREE ESL Supplies for teachers



?通过视频课程帮助零起点的初学者免费学习英语单词
想要最好地享受本网站上的免费英语互动学习材料,您必须拥有Internet Explorer浏览器版本5.0 以上以及 Windows media player播放器。 部分网页浏览器如firefox可能要在您下载更新最新版本之 后才能正常浏览我们网页上的内容
你来自哪里?国家名称 ESL词汇视频课程?(Where are you from?)
你喜欢什么动物?农场动物词汇. 喜欢/不喜欢.(What's your favorite animal?)
你最喜欢哪些颜色?颜色名称以及如何表达喜爱. (What colors do you like?)
你最喜欢哪些水果?香蕉,苹果,芒果,橙子等等. ( What fruits do you like ?)
你的家有几个室?起居室,卧室等. ( How many rooms are there in your home?)
今天是星期几?一周当中的日期,从周一至周日等. (What day is today?)
语法. "a" 和"an". 单数和复数语法点. (Grammar, Singular vs. Plural)
你想吃什么?学习关于食物的英语单词,如汉堡,披萨等.(What do you want to eat?)
你的职业是什么?涉及到工作的单词,如警察,老师等.( ( What's your occupation?)
现在几点了?3点了. 学习用英语报时. (What time is it?
ESLTower.com is a free ESL, EFL & ELT site that offers top quality printable and interactive English grammar and vocabulary exercises for teachers and students. These grammar and vocabulary resources will save English teachers lesson planning time and offer students a great free opportunity at online self-study. There are grammar & vocabulary quizzes, crosswords, word search and several fun puzzles that make the learning and teaching of English easy and fun.Pronunciation is one area we have recently added more content. We have added phonetic vowel and consonant exercises in the form of videos, worksheets, self-tests and mp3 downloads.
Website CD-ROM
Website Quick Search:
Englishmedialab.com & Partners Site search :
ESL Ebooks
ESL/EFL Ebooks
ESL Kids Course Ebooks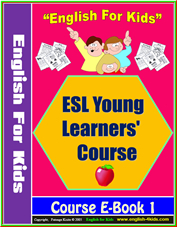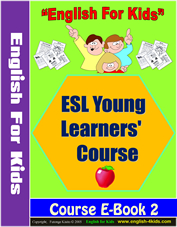 链接
Increase your site's popularity by exchanging links with this site .
Partner Links




Copyright [ English Media Lab] . 2006 - Futonge N. Kisito webmaster & Developer of site.